You may be an employee, small or medium businessman or even an entrepreneur but, the interesting fact is that no matter who you're, you may get a chance to prepare a presentation once in a while. Making a presentation is an easy peasy task right? But creating a mind-blowing presentation will be a little bit challenging. Especially when you're in the corporate world your presentation should be pretty impressive enough to attract the audience. The small facts that we forgot or neglected may be the most important things  that will make your presentation quite impressive.So we have come up with the 05 interesting tips that'll support you to create  mind blowing PowerPoint presentations.
1.  Use a custom PowerPoint template
People have different intentions when preparing presentations. So to convey the message properly the designer has to select a relevant design. According to the requirement of the person, an appropriate PowerPoint theme can be chosen. But what we always like to do is to use the same templates over and over again for every presentation. So we suggest using custom PPT themed designs, but not the same set of designs over and over again! Microsoft PowerPoint provides a limited set of themes, therefore, you may have to download themes from the internet in some circumstances. Out of multi-themed designs select the most appropriate design that can clearly convey the message you want to your target audience.

2.  Keep the content simple
If your presentation is too overloaded with content, there's a high probability that the audience will get distracted. If we try to make so many points that the audience misses all of them due to information overload. Less is truly more. When you eliminate the weaker points of your presentation, the audience's attention will follow your key points accordingly. Keep some information with you to tell when you're presenting to the audience verbally. By the way, the short and sweet content will be pretty impressive!

3.  Use visually engaging fonts
A font is a powerful tool of PowerPoint presentation design. The right font choice not only makes the presentation text readable but also grabs your audience's attention. It makes them want to follow you and your slides.
We suggest that you forget the standard Microsoft office fonts, such as Times New Roman and Calibri, and go for the ones that are more engaging. you can even download different fonts  from sites like Google fonts, Font Squirrel, Font Space and etc.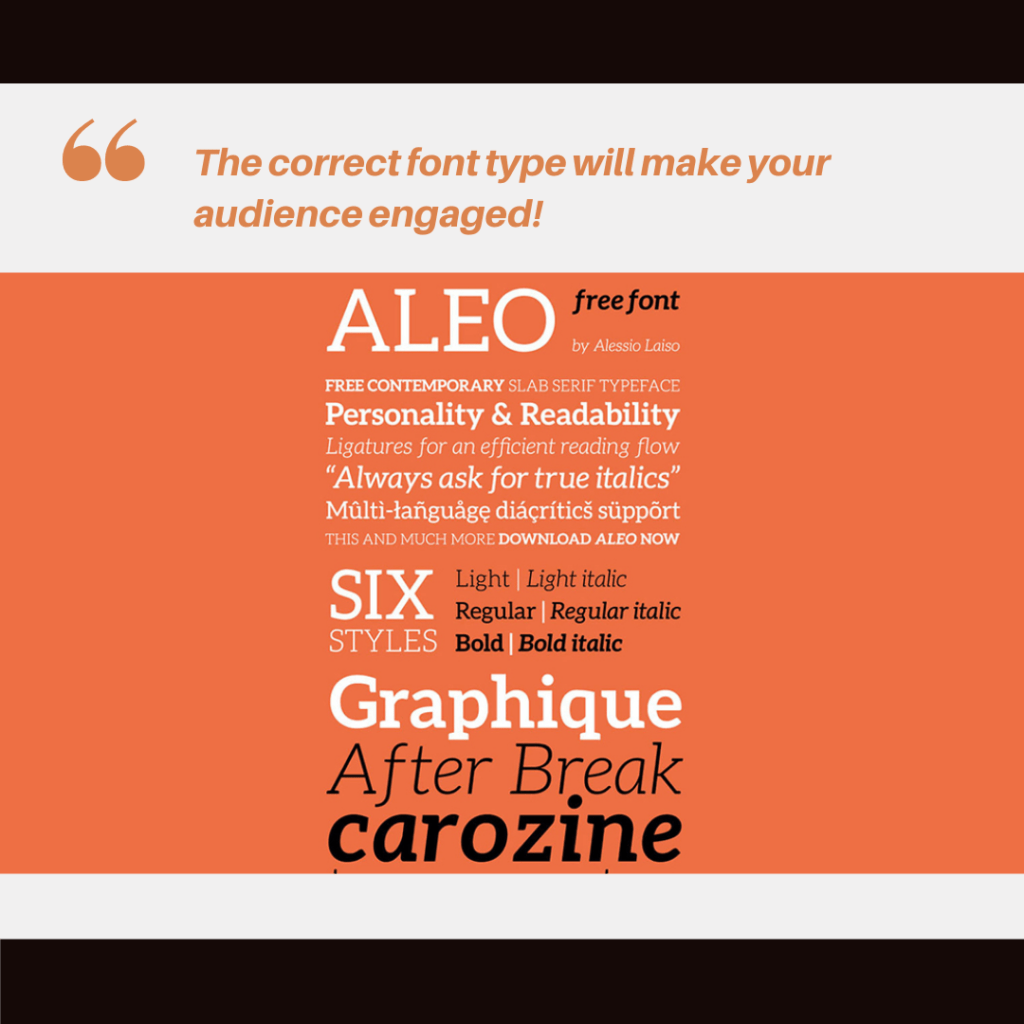 4.  Use infographics/images/videos
For the problem of content overloading, using infographics can be one solution. The use of relevant infographics can give attractiveness to the presentation. The audience will be much interested in this type of content rather than plain texts. You can even use images in places where appropriate. But the image quality matters therefore you can for stock images where you get tons of quality images. As infographics, images will bring attractiveness to the presentation. And the audience will get a clear understanding of the topic you're presenting by both infographics and images. Building impactful presentations are all about adding other perspectives and angles to the content. Maybe To break the monotonous nature you can have a small video clip or two in between the presentation slides. This video may be a production that you built on your own or found on sites like YouTube. That doesn't matter as long as it is relevant to the topic you are talking about.

5. Make sure that all the objects are aligned
A simple way to create a well-designed presentation is to make sure all items on a slide are intentionally aligned. To do this: hold down Shift + select on all the objects you want to include. Then choose Arrange in the options bar and apply Alignment Type. When you're working with text on your slide, it helps to ensure that it aligns consistently. Keeping your text aligned in the same orientation really makes a slide look clean.

So we have gone through the 05  tips to create mind blowing PowerPoint presentations.Hope these 05 tips will help you when you prepare your next presentation. So good luck with making an impressive powerpoint presentation! We think this article may add an extra value to your presentation skills. You may be interested in free powerpoint templates, check www.wonder.lk for lots of free templates!